Historic Piano Finds New Home in Rotorua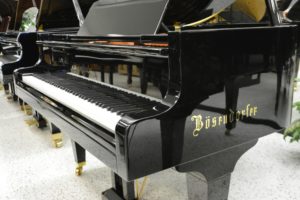 A historic grand piano will remain in Rotorua after finding a home at John Paul College. It was gifted to the school when the Sir Howard Morrison Performing Arts Centre closed its doors for earthquake strengthening and redevelopment.
It was perfect timing that this piano needed a safe and secure new home at a time when John Paul College's own performing arts centre was under development.
The school has committed to the restoration required to return the instrument to performance standard and to ensuring that it will be always be available to the people of Rotorua as a community facility.
The Austrian made Bösendorfer grand piano was bought second hand in the 1930s and has a long history of performance in Rotorua. It has been played by a number of internationally renowned concert pianists, including Michael Houston.
It is fantastic news that this very special piano is going to continue its rich life in our city.
Rotorua Lakes Council Performing Arts Director Cian Elyse White commented – "It is our pleasure to see the piano move into its new home at John Paul College. It's only fitting that it be gifted to Rangatahi to assist in growing local talent."
Top