2020 Scholarships Announced!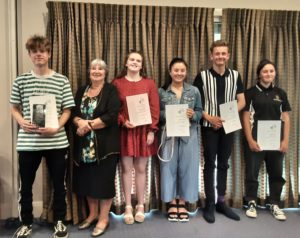 (left to right – Leon Sharplin, Mary Smith, Neeve Coumbe,
Hannah Seo, Tate Tisdale and Waiora Mills)
RCAT held its 2020 scholarship awards on Tuesday 8 December 2020.
We are delighted to announce that the deserved recipient of the inaugural 𝗗𝗿 𝗕𝗮𝗿𝗿𝘆 𝗦𝗺𝗶𝘁𝗵 𝗠𝗲𝗺𝗼𝗿𝗶𝗮𝗹 𝗜𝗻𝘀𝘁𝗿𝘂𝗺𝗲𝗻𝘁𝗮𝗹 𝗦𝗰𝗵𝗼𝗹𝗮𝗿𝘀𝗵𝗶𝗽 is 𝗟𝗲𝗼𝗻 𝗦𝗵𝗮𝗿𝗽𝗹𝗶𝗻 !
It was a great honour to have 𝗠𝗮𝗿𝘆 𝗦𝗺𝗶𝘁𝗵 in attendance to present the award to Leon.
Steward and Ian Edward both spoke about Barry and the lasting impact that both Barry and Mary have made on the music community in Rotorua and beyond and Leon treated us to a performance and delighted the crowd with a jazz piece in homage to Barry.
𝗖𝗼𝗻𝗴𝗿𝗮𝘁𝘂𝗹𝗮𝘁𝗶𝗼𝗻𝘀
Leon – we know that you have big plans for 2021 and look forward to hearing updates from you in the coming year!
Our 2020 𝗥𝗖𝗔𝗧 𝗛𝗲𝗮𝘁𝗼𝗻 𝗔𝗿𝘁𝘀 𝗦𝗰𝗵𝗼𝗹𝗮𝗿𝘀𝗵𝗶𝗽 recipients are 𝗡𝗲𝗲𝘃𝗲 𝗖𝗼𝘂𝗺𝗯𝗲 and 𝗛𝗮𝗻𝗻𝗮𝗵 𝗦𝗲𝗼!
Our congratulations go to these incredibly talented young people and we hope that the scholarship monies will help you in the coming year. Please keep in touch and let us know how you are getting on in your chosen disciplines.
The annual 𝗥𝗖𝗔𝗧 𝗦𝗽𝗲𝗲𝗰𝗵𝗡𝗭 𝗦𝗰𝗵𝗼𝗹𝗮𝗿𝘀𝗵𝗶𝗽𝘀 went to𝗧𝗮𝘁𝗲 𝗧𝗶𝘀𝗱𝗮𝗹𝗹 (Senior) and 𝗪𝗮𝗶𝗼𝗿𝗮 𝗠𝗶𝗹𝗹𝘀 (Junior).
Tate and Waiora both performed a short piece on the evening, demonstrating precisely why they are winners!
Keep up the good work and we look forward to seeing you in the future as you continue growing your oral presentation and performance skills
2021 applications for all scholarships can be made from now until 30 September 2021
here
PS Apologies for the formatting here, some of my editing tools have temporarily disappeared! I will fix it when I can find them 🙂
Top